Gold Pearl Necklace and Earring Set with Bracelet for Wedding-Lisa
Pearl Bridal Jewelry Set with Earrings, Necklace & Bracelet for Brides
If your bridal look is calling for a combination of gold and pearl, here is a beautiful gold pearl necklace and earrings set with a bracelet for your wedding.

This is a wonderful bridal jewelry set that is customizable with length, size, color, pearl type exactly as you wanted it to be. With 14K gold plating, you can also choose your pearl colors of cream and white.
You may choose your gold necklace with or without the backdrop, a matching pair of earrings, and a delicately designed gold bracelet. When you combine all three pieces they are completely coordinated and stunning bridal jewelry sets. You also have an option to choose your necklace set combination with just the earrings & bracelet or both of them for a full and complete bridal jewelry set.

The drop of the necklace, earrings and the backdrop are all matched, the bracelet is combined to match with the center of the crystal drop. The material used is Pearls and crystals, cubic zirconia.
The pearl bridal necklace earrings bracelet set can also be purchased in silver and rose gold tones.
More options and details are below.
Earrings: - Length of the earring from the top is approx. ¢¬'¬Å" 2 inches or 5 cms Width 3/8 inch or 9 mm
Bracelet:- Bracelet is 6.5 inches long and has an additional 1.1 inches extension chain and the crystals are 4mm.
Pearl Necklace Measurement Options:-
Important Combinations to Consider Before Selection
The Backdrop is 7 inches on all styles of the necklace, Alos Necklace is available without the backdrop.

Necklace without backdrop comes with a 2-inch extension chain.

Default Necklace Length is 16" inches ( front) if you need 18" inches Leave us a note.

The pendant drop is approx 2 1/8 inches or 5.3 cms

The pendant drop measures 2 1/8 of an inch. Pendant Pearl Drop width 9mm.
The earrings and the pendant drop have pearl-type options Round & Teardrop.
Choose the necklace Set is with both or only, earrings & bracelet.
Choose the finish of silver, gold & rose gold with white or cream pearl.
Choose pearl drop type on the pendant, earrings, and backdrop( Round or Teardrop)
If one of the above options is chosen, the full set is will be made in the same, style, pearl, and color.
 Note- In some Images, You will see a tiny crystal, If you need a crystal instead of a pearl, Please let us know and we will customize it as per your requirement. Leave a note. By default, it would pearl on pearl drop on the pendant. 
Share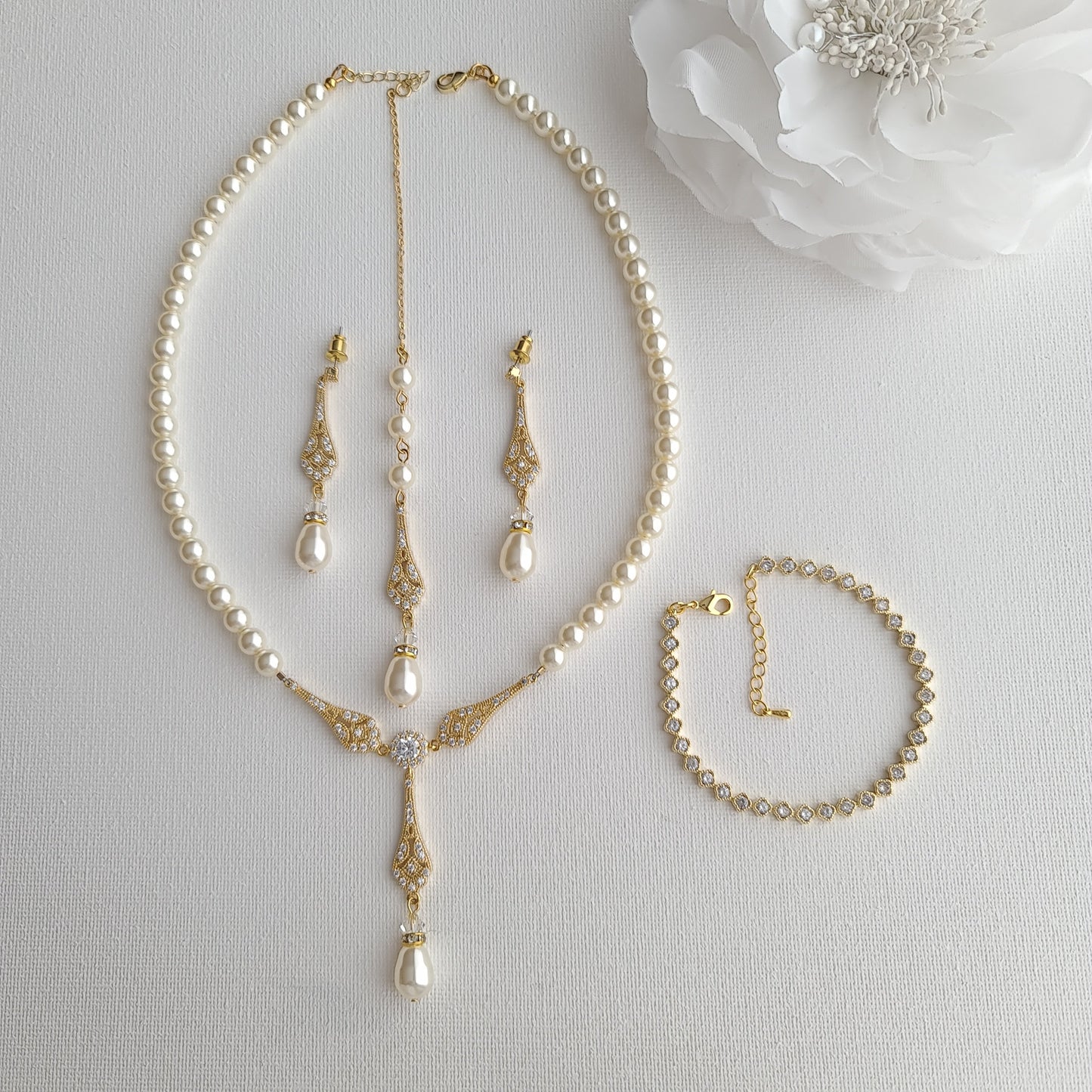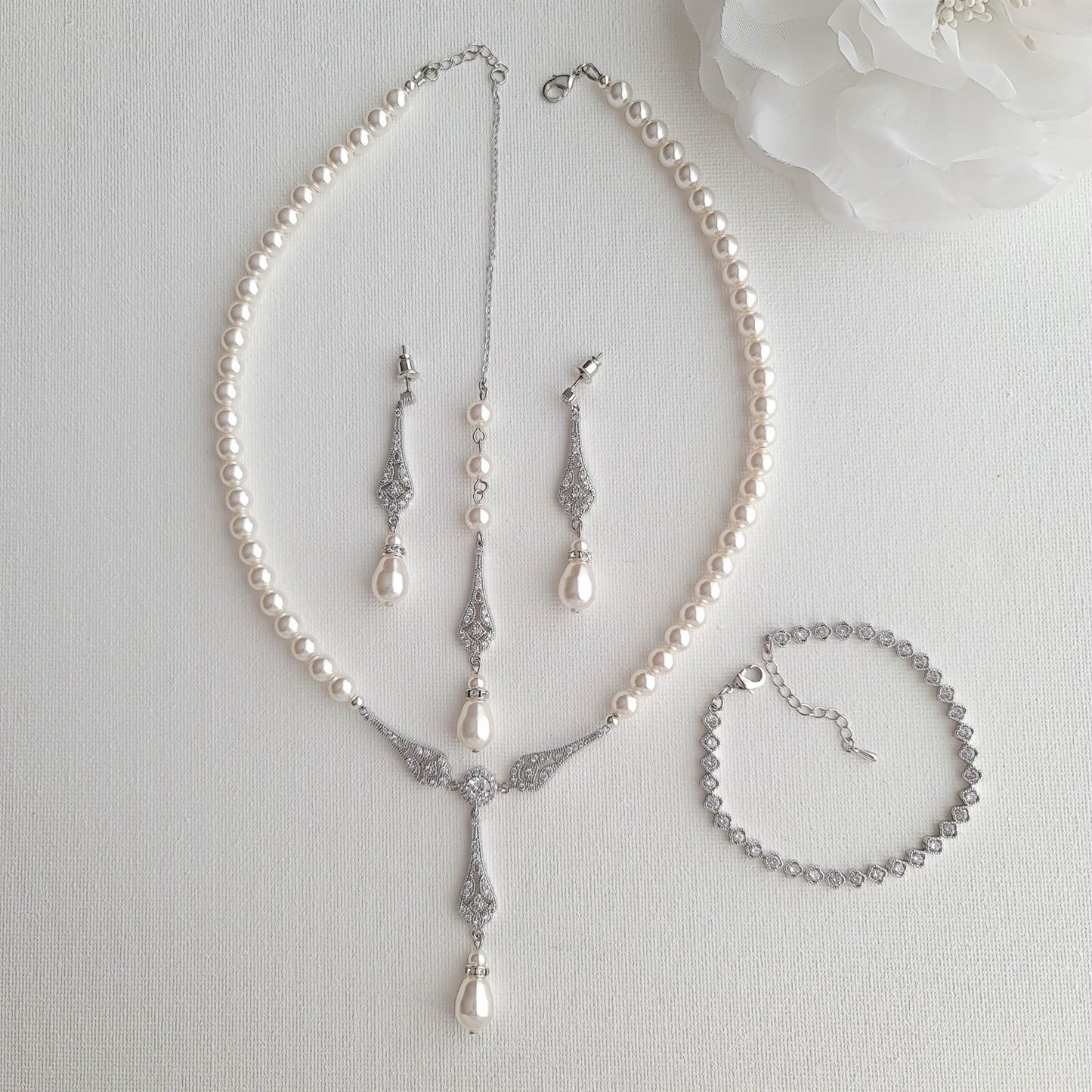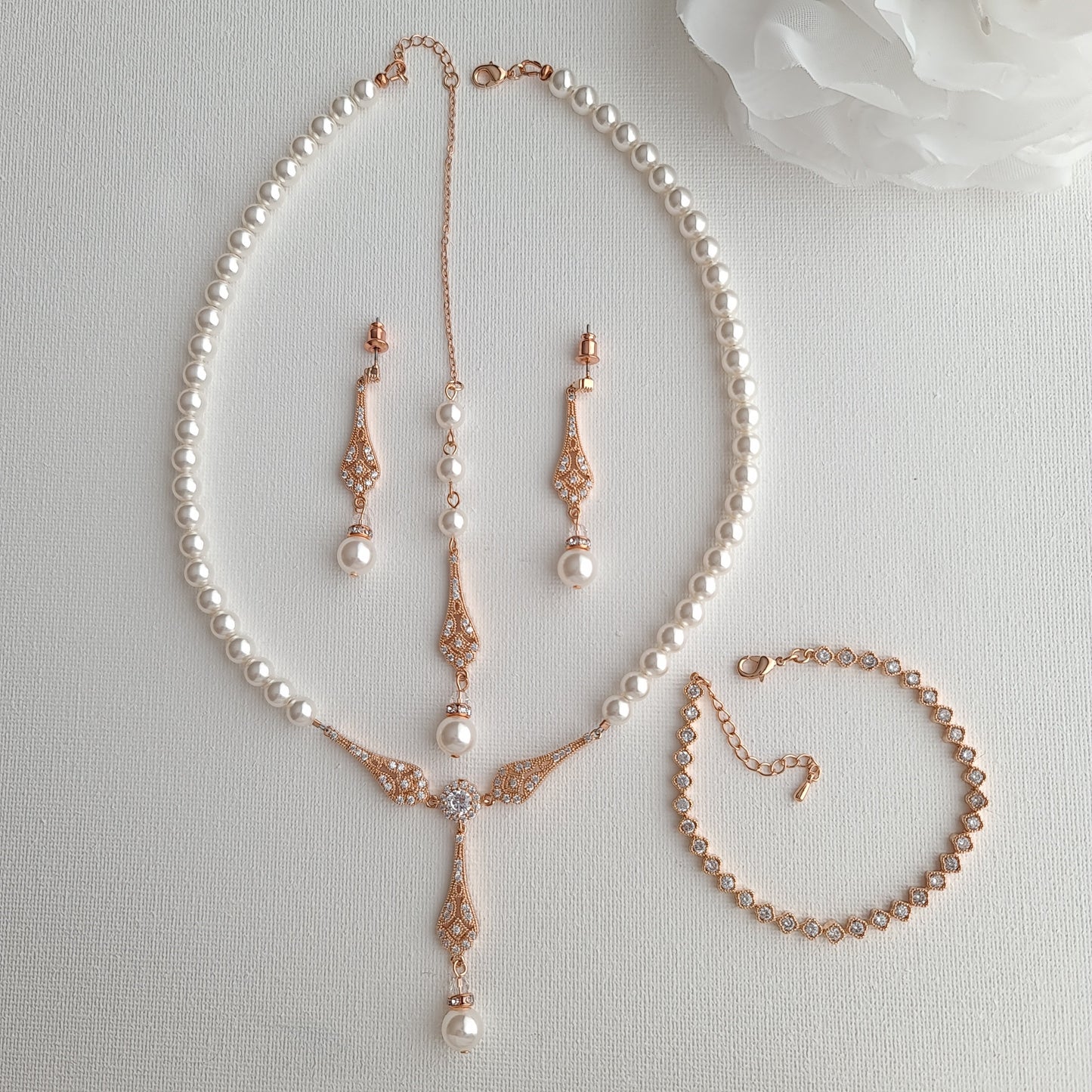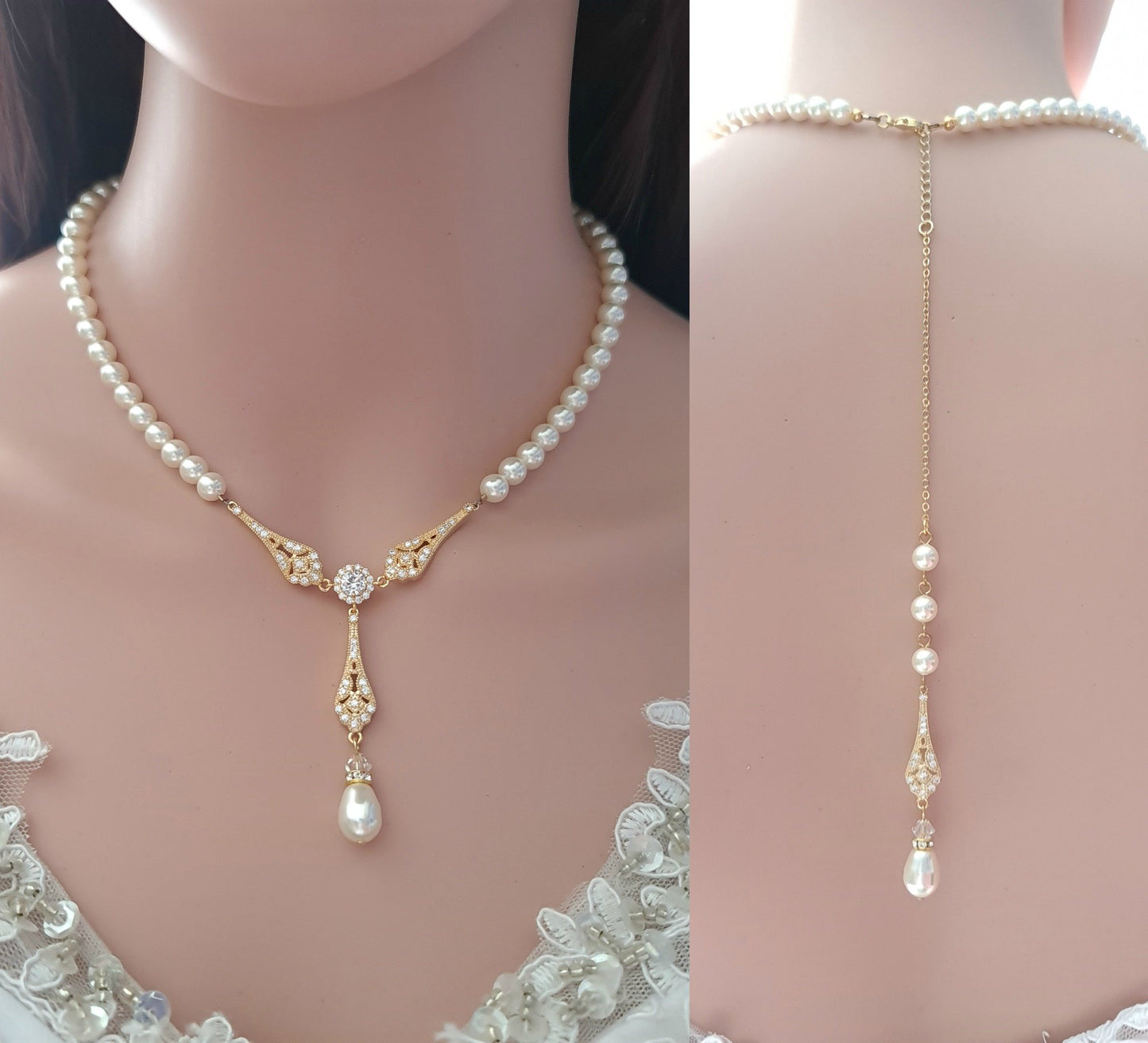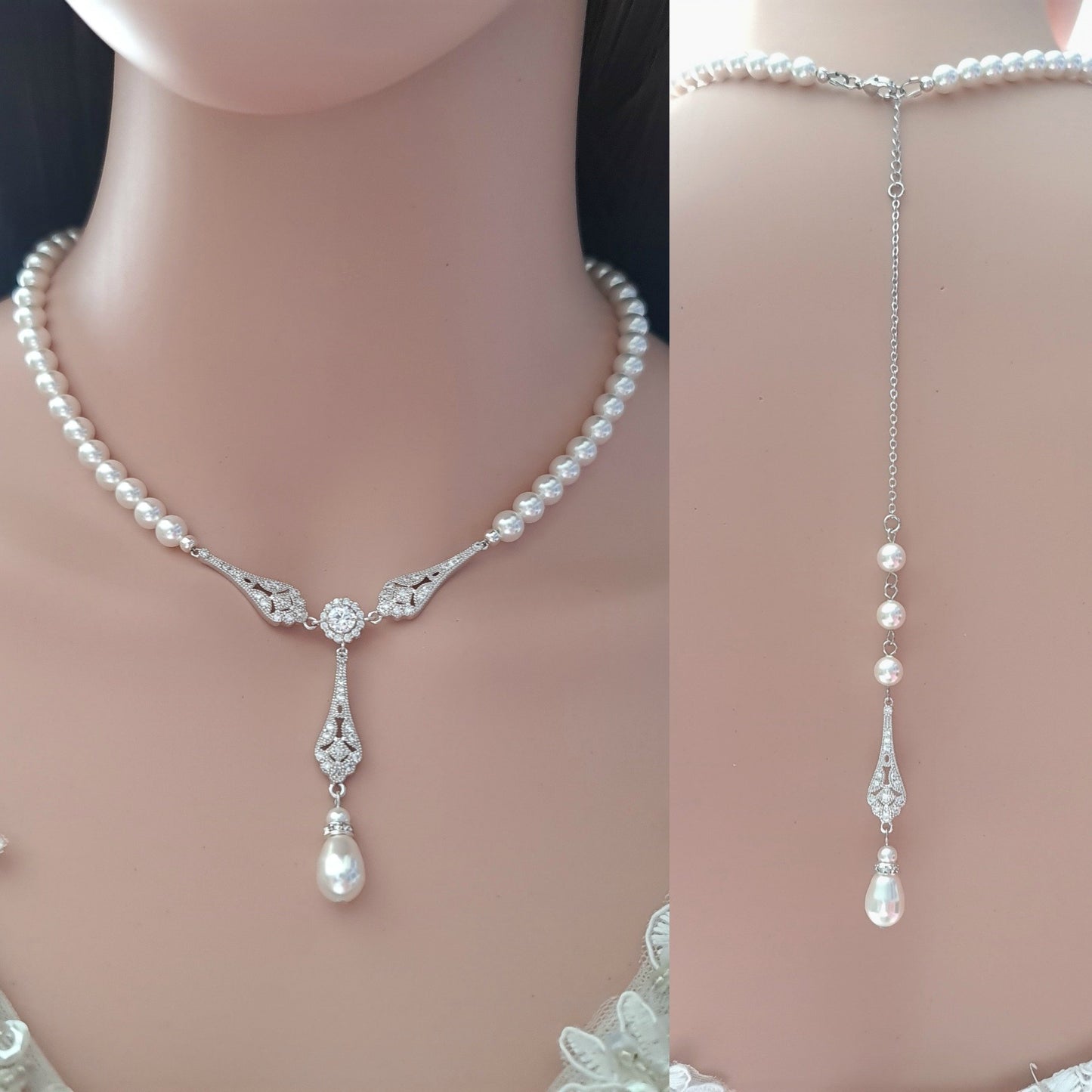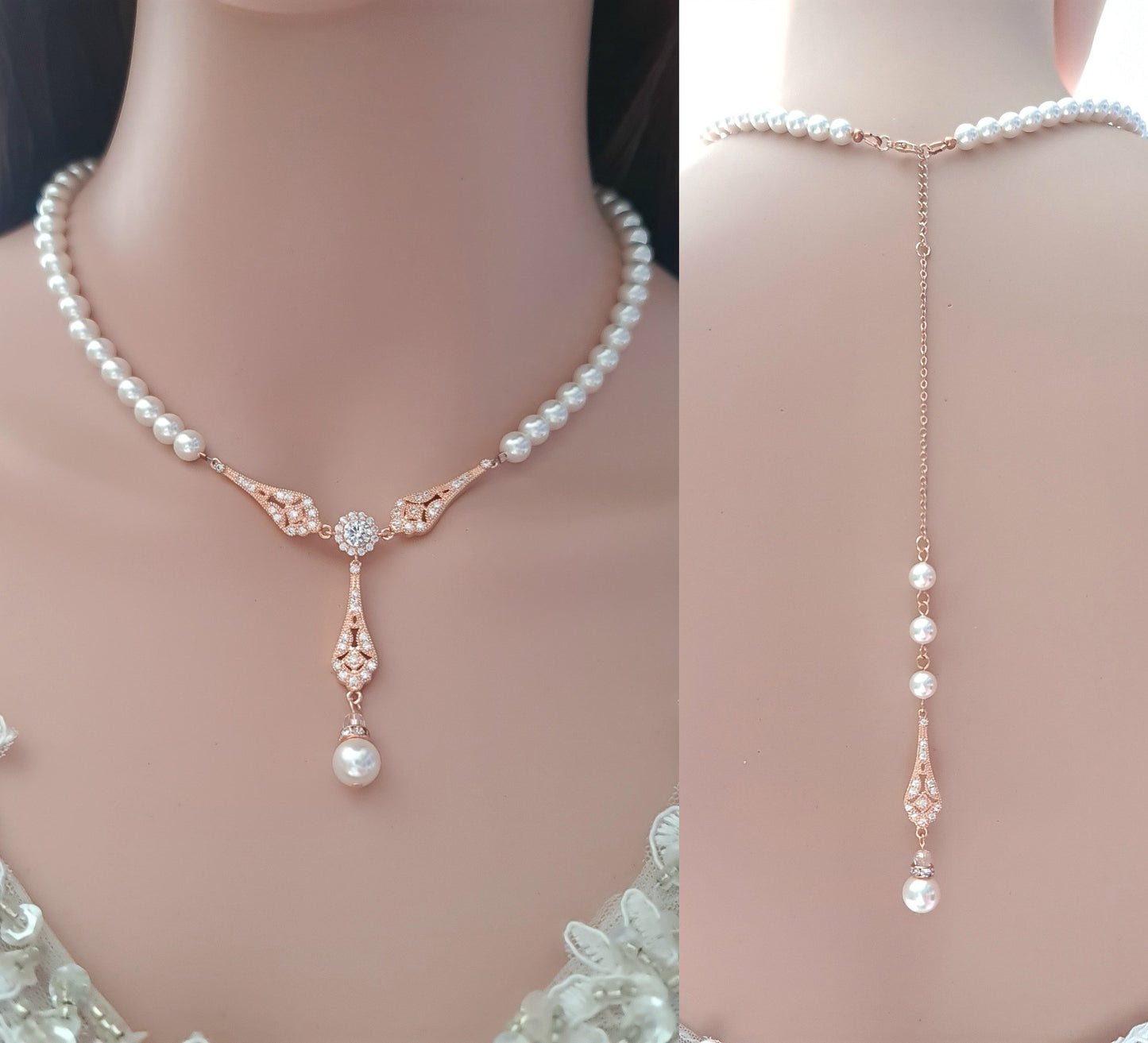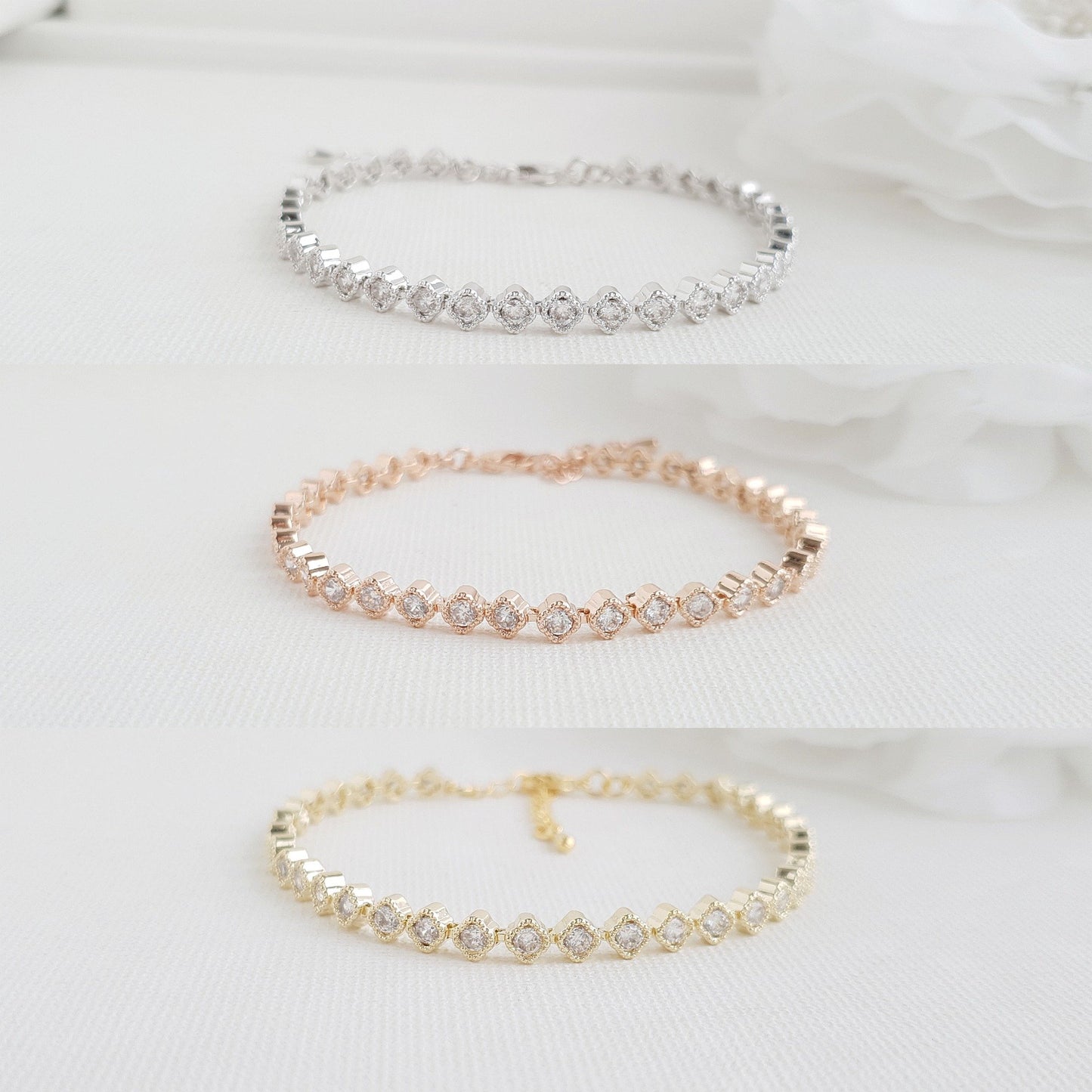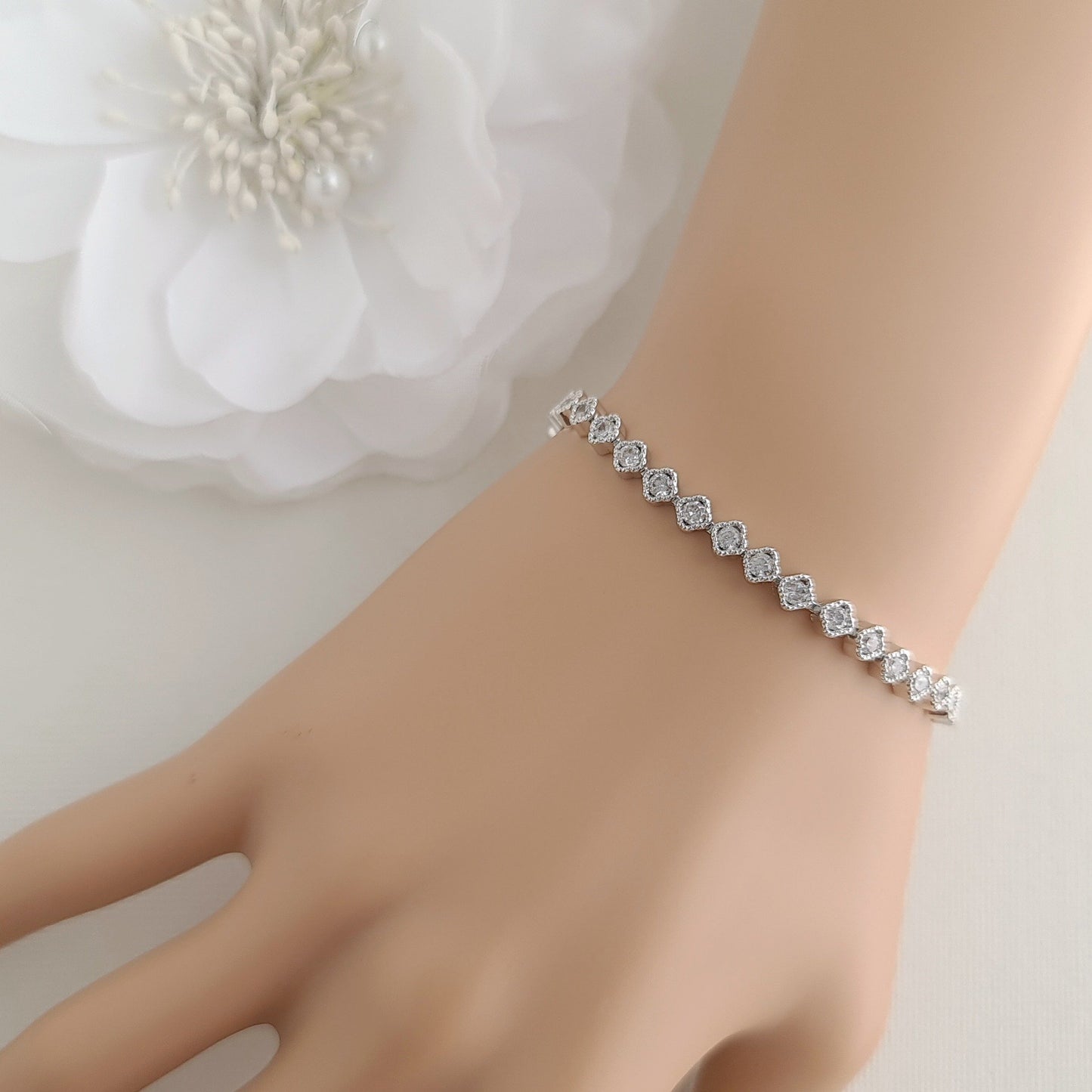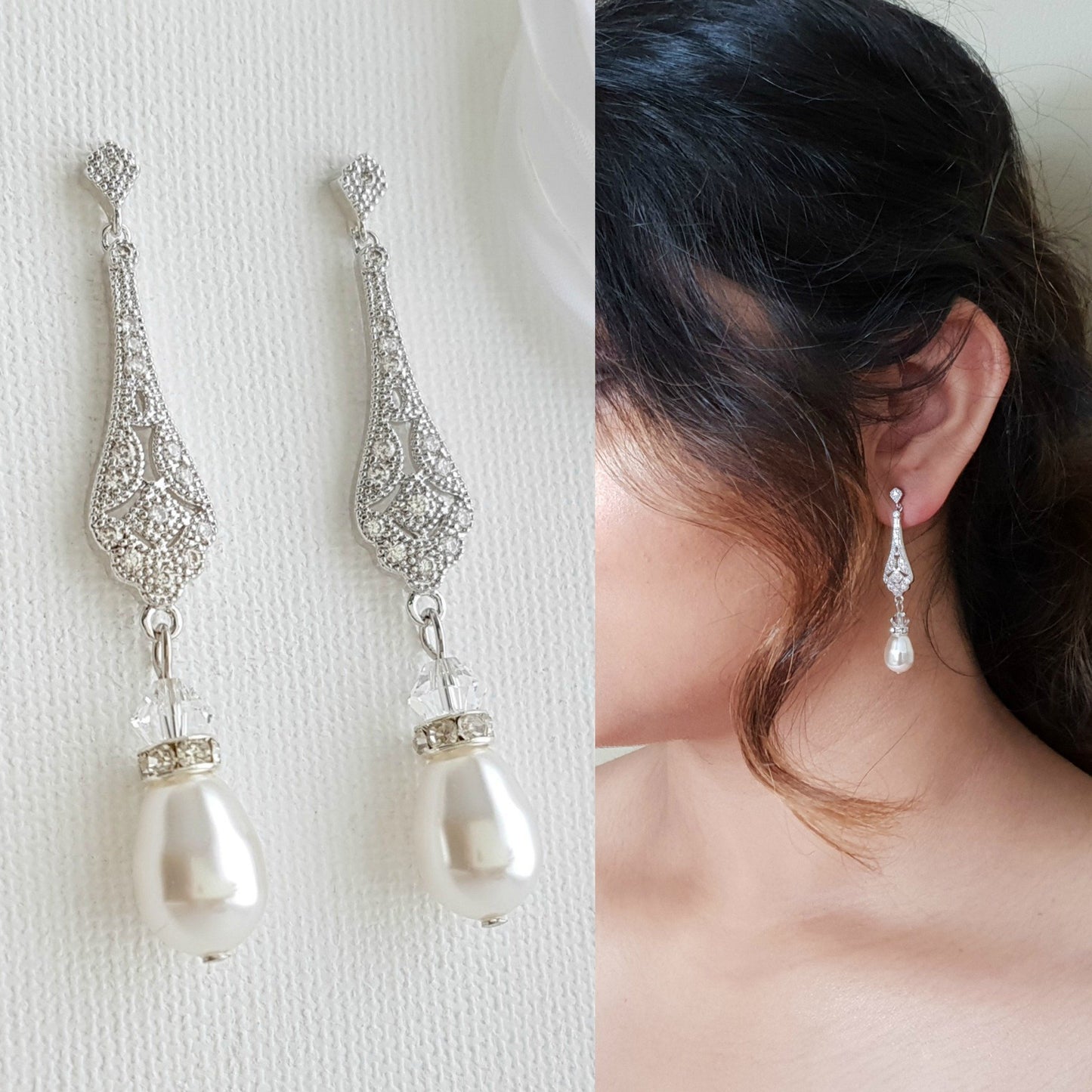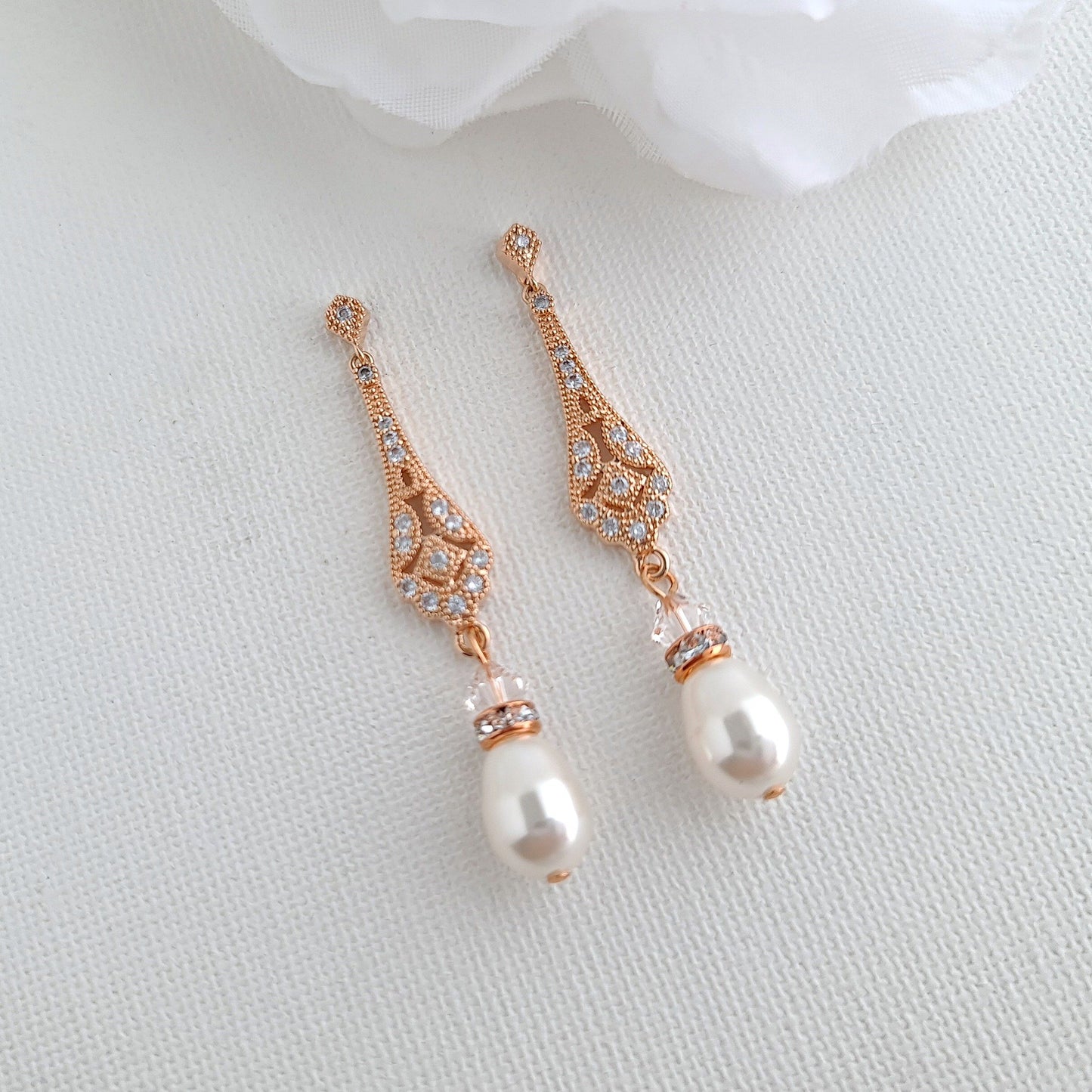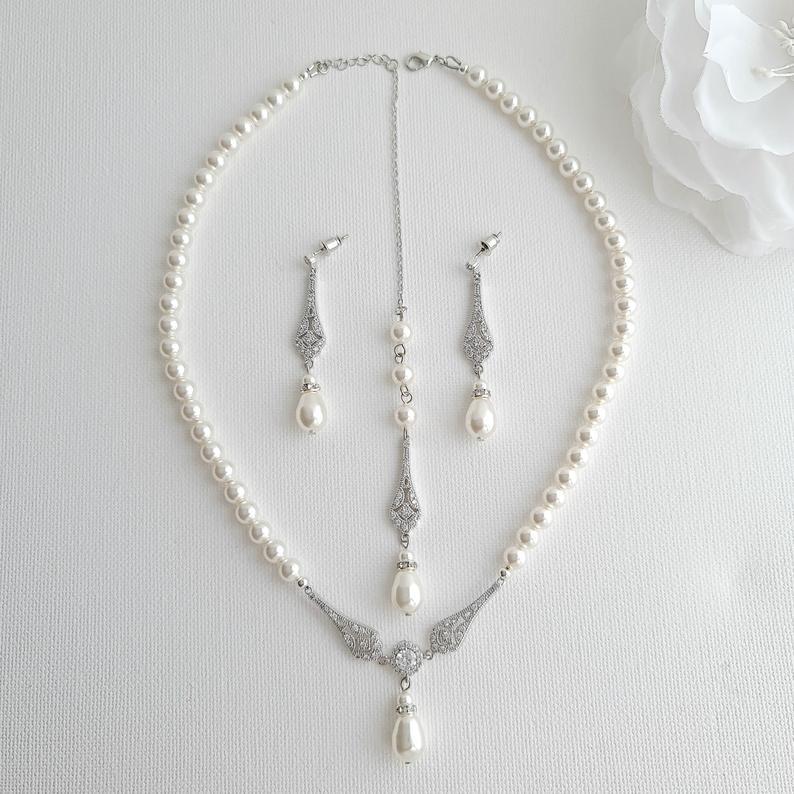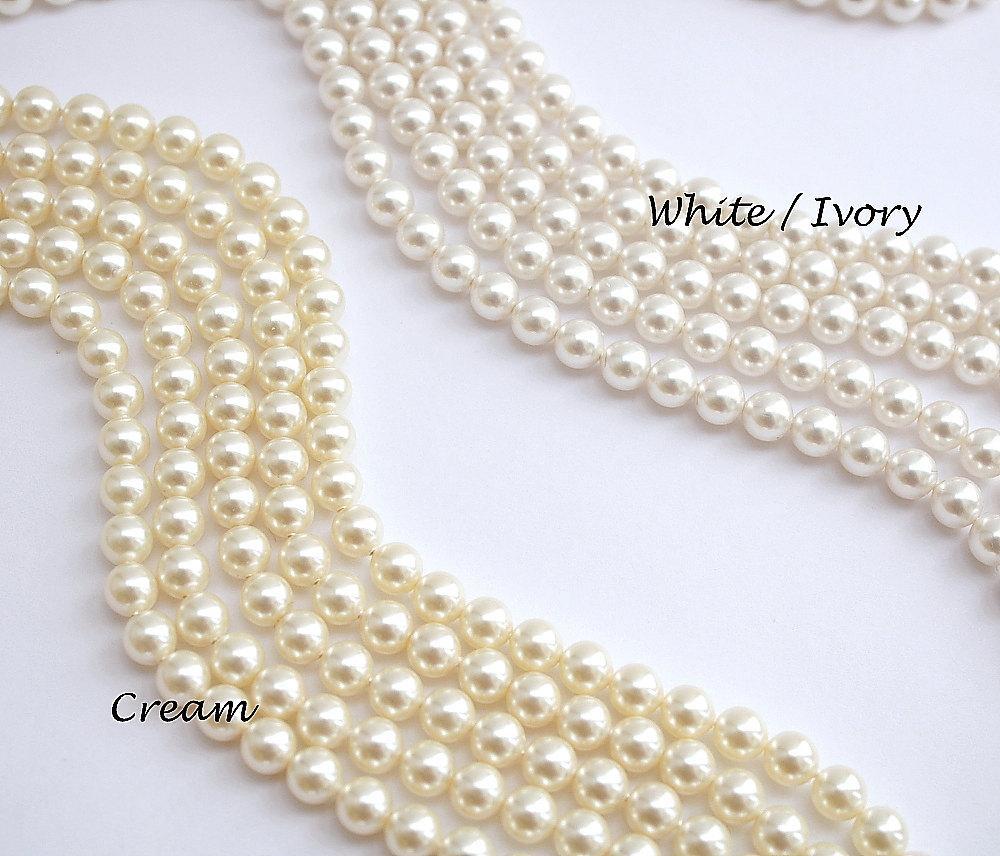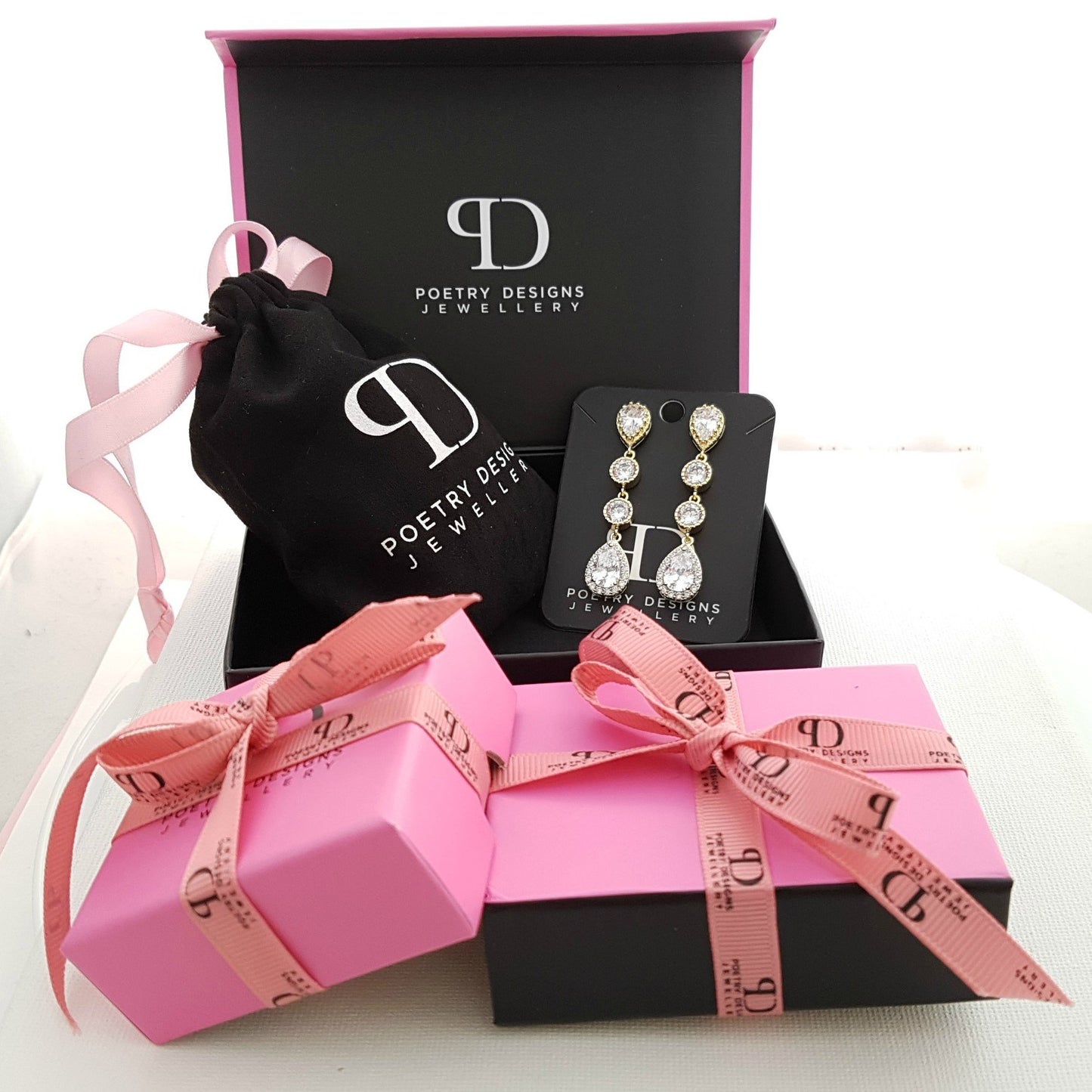 Great Benefits

* No MOQ- Only buy what your customers need.

* Exclusive Wholesale (B2B)

* Easy Ordering

Quality Products

* Quality Jewelry at Affordable Price, * Handpicked & Made to Perfection.

* Choice of metal Color/ Finish & Pearl colors

* Small Customizations where possible.

We Commit & Deliver

* Fast, Secure, Reliable Shipping, We ship worldwide

* Affordable, Profitable, Quality Jewelry

* Best Support, Service, Satisfaction-* We Are Here To Help